At Geaux Care Staffing, our mission is simple - to bridge the gap between exceptional healthcare talent and facilities in need.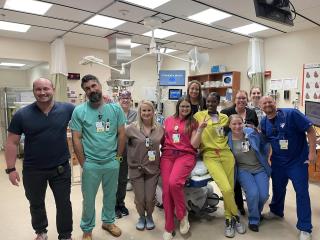 We are honored to partner with healthcare facilities seeking reliable, skilled, and compassionate healthcare professionals, while also offering rewarding opportunities for talented healthcare practitioners to grow their careers.

We are proud to have a 90% travel nurse retention rate.

What makes Geaux Care Staffing stand out amongst other staffing agencies? We're so glad you asked...

Unparalleled Expertise: With decades of experience in the healthcare staffing industry, we understand the unique challenges and demands that healthcare facilities face. Our team of experts finds the perfect match for your specific needs.

Qualified Healthcare Professionals: We pride ourselves on our extensive network of qualified healthcare professionals. Each candidate undergoes a rigorous screening process to ensure their skills, experience, and credentials meet our standards.

Personalized Approach: We believe that one size does not fit all. Our approach is tailored to each facility's requirements, ensuring that you receive the best possible candidate who seamlessly integrates into your team.

24/7 Support: Healthcare never sleeps, and neither do we. Our team is available round-the-clock to address any staffing emergencies or concerns promptly.